Order Info
Product Information
On this page you will find information regarding our product dimensions, finishes, shipping information and installation instructions for our products.
*Doorchime Instructions will be sent with the finished product.
*For installation check your local electrical code and have a qualified electrician install our products.
Doorbell Information
Doorbell Finishes
Antique Brass
Gives a quiet, aged look to the doorbell. Color variation and mottling in the finish are normal and add character and beauty to any doorbell.
Oil Rubbed Bronze
A darkened finish designed to emulate aged bronze. This finish varies from a rich chocolate brown to a dark black.
Doorbells 1608 and 1611 are our only doorbells available in Antique Copper as well as Oil Rubbed Bronze. Our doorbells have a finish that will accept the gradual ageing and weathering of the outdoor elements.
Doorbell Installation
Tools Required
3/4″ (20mm) drill bit, drill and screwdriver.
Installation
Drill 3/4″ (20mm) hole approximately 1″ deep.
Attach one wire to each screw terminal.
Use the screws provided to mount the door bell in place.
Please Note: These push buttons are for use on low-voltage doorbell systems that do not exceed 16 volts.
Lighting Information
All dimensions are in Imperial measure and include shades shown. If you select a shade other than that shown, the overall dimensions may change. The standard length is the range of length included in the base price. If you would like your fixture longer than the standard length, let us know. It's likely not a problem but there may be an extra charge. If you are unsure about the dimensions of a fixture please contact us as it is important to know that the fixture will fit before you get it.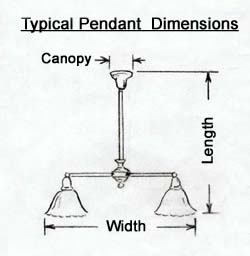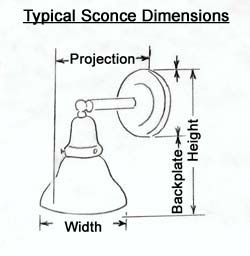 Special Requirements
You may have special requirements such as: a sloping ceiling, extra length, or a custom shade choice. Please contact us with the fixture model and your special requirement before placing your order.
Finishes
Polished Brass is solid brass that has been polished. There is no coating on the brass, so expect it to gradually tarnish. Most people agree that the appearance of the fixture is improved as it takes on a richer more golden hue with time.
Hint – after installation, wipe off fingerprints with soft paper or cloth.
Lacquered Polished Brass finish is the same as above. However, the final product has a clear coat of lacquer to prevent the brass from aging over time.
Antique Brass and Antique Copper finishes give a quiet, aged look to a fixture. Color variation and mottling in the finish are normal and add character and beauty to the light fixture. These finishes should be considered permanent for inside applications. Fixtures intended to be used outside have a finish that will accept the gradual ageing and weathering of the outdoor elements.
Polished Nickel is a heavy nickel plate on top of solid brass. This finish is extremely durable and almost maintenance free. This is a very popular choice of finish for bathroom and kitchen fixtures. It will match very well with chrome plated fittings.
Brushed Nickel is gently brushed polished nickel over brass.
Oil Rubbed Bronze finish is a darkened treatment applied to replicate aged bronze. The finish is quite dark with slight variations of colour. Many Oil Rubbed Bronze finishes differ from source to source in the industry. If you have any questions regarding this finish or expectations please feel free to communicate these during the ordering stage.
Black Matte is a satin black treatment applied to a sandblasted surface for a lasting finish. This finish is not only durable and long lasting but the finished product has a dignified air to it.
Bronze Black is a lovley combination of a Bronze finish and Black Matte finish.
Antique Brass Paint Finish has a antique brown finish with brass highlights and satin lacquer finish.
Bulbs
All of our fixtures are designed to use type "A" incandescent bulbs ­ these are the regular bulbs commonly found at most stores. These bulbs seem to offer the best combination of light quality, convenience and reliability. On the down side they generate quite a bit of heat so it is important not to exceed the recommended maximum wattage. Of course you can always safely use a lower wattage bulb to achieve a softer lighting affect. For your safety make sure to follow the maximum wattage requirements for your fixture.
Wet/Damp Locations
Damp Locations
A damp location is an area inside or outside a building that may be exposed to moisture, but is sheltered from direct contact with water. These areas are required to be certified suitable for damp locations.
Wet Locations
A wet location is an area inside or outside a building that may have direct contact with water. These areas are required to be certified suitable for wet locations.
Dry Location
A dry location is an indoor location completely sheltered from water and moisture.
Shipping
We ship most orders UPS Ground, Fed Ex Ground or by surface mail. Shipments leave our store on weekdays and should be allowed one to five weeks delivery time depending on your area. Certain items require a more extensive lead time and are noted as such on the items listing page, or by your Waterglass Studios Representative. Express deliveries can be made, but delivery charges will vary.
Taxes and Brokerage Fees
Sales Tax
British Columbia law requires us to charge sales tax on each order to British Columbia residents.
Currently we do not charge sales tax to any other provinces or states in North America. Government sales tax applies to all Canadian provinces.
Brokerage Fees
For items shipped by UPS or Fed Ex there will be a handling charge to you for clearing customs from Canada to the USA. There may also be state taxes where applicable.
Warranty
All our products are guaranteed against defects in materials and workmanship for two years from date of purchase.
If you have any questions or concerns upon arrival of our product please contact us immediately and we will direct you on how to proceed. All returns must be postpaid and COD returns are not accepted.
Our Warranty Does Not Cover
· Damage to light fixtures and shades due to improper use of light bulbs, such as using higher wattage or bulb types not recommended.
· Changes in look to finishes.
· Damage caused by improper cleaning or exposure to weather or other corrosive elements.
· Cost of removal and installaion.
Returns
Returns must be made within 30 days of our shipping date. Items must be returned postpaid (COD returns not accepted) and there is a restocking charge of 15%, in unmodified, saleable condition. Custom orders are not returnable.
Damaged or Defective?
If you receive an item that's damaged or defective or is not the item you ordered, save the box and all the packing material and contact us. We'll give you instructions on how to proceed. In the meantime, we'll be sure a replacement is sent to you promptly.